Making Creative Visions a Reality
Hey there, Creatives!
Come in and stay awhile. We are Three Elle Creations. Handmade items are curated with love by, Angela Thomasson.
Feel free to explore, shop to your heart's content, and make yourself at home. Let's infuse your world with the beauty of handmade wreaths, ornaments, and more.
Happy browsing, shopping, and stay as long as you'd like! Don't forget; we take custom orders too!
Shop All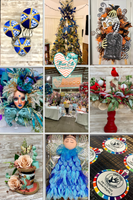 What our customers say
Wreath arrived today and just had to put it up. It is so beautiful and just what we needed for our Dia de Los Muertos decor. ThreeElleCreations were also happy to respond to any questions I had before I placed my order. Will order from them again.

Richard
Love it - Angela puts so much love and creative energy in her work. Products are durable and well made fast delivery!

Lisa
My daughter loved this wreath. I got it for her for Mother's Day.
Arrived quickly. Beautiful quality and craftsmanship. Great price. I will definitely order again. Thanks a lot.

Cmr1956
Love love love. So bright and fun. The packaging was great and this arrived in record time!

Megan
Love my kit and the owner is such a pleasure to work with!

NFrught
Love how this turned out! She's going to lose her toddler mind when she sees it on her birthday. Quick response times and very easy to work with. 10/10 would recommend.

Monica
I love my fall centerpiece by Angela at Three Elle Creations. The arrangement is beautiful and is perfect on my mantle. I can feel Angela's passion for design and perspective in her creation! I am excited to hear all the comments from my holiday guests this fall! Thank you Angela for loving your work! It definitely shines through!

Karen R.
Angela made the most beautiful Army Veteran Wreath to commemorate my husband's many years of service. It was done tastefully, and such attention to detail. So exquisite in so many ways. We stand and admire our wreath everyday, and it makes us proud. Having a second wreath done, her work is just so beautiful, thank you, we are hooked!

D. Gouveia
Angela from Three Elle Creations does amazing work! She truly puts her creativity and love into every project! I had such a hard time choosing what I wanted, but absolutely LOVE my new wreath and can't wait to buy another!


Stephanie K.